Confucio Institute Library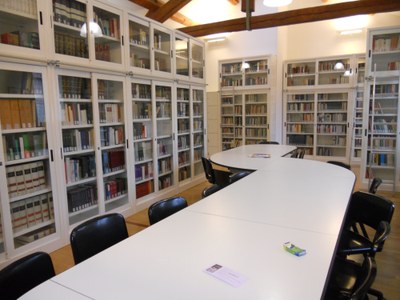 MAIN REFERENCES
library code: CF
Via Illuminati, 4 - 62100 Macerata
Visualizza mappa
tel.: 0733-258.5802 / 4360
fax: -
email: biblio.confucio@unimc.it · beatrice.vissani@unimc.it
---
OPENING TIMES AND ACCESS DETAILS *
Opening days: from Monday to Friday
Opening hours: 9:00-18:00.
Open shelves: no | security tagging : no
*We recommend that you always consult the News section to check for any temporary variations to the times indicated above.
---
PRESENTATION
The main collection of the Confucio Institute Library, which was inaugurated in May 2012, consists of 772 volumes donated by Hanban, the office for the promotion of the Chinese language and culture of the Ministry of Education of China.
The library offers:
· handbooks to study Chinese
· dictionaries (Italian-Chinese/Chinese-Italian; English-Chinese/Chinese-English)
· novels and classics of Chinese literature, in Chinese and English
· texts about Chinese culture, in Chinese and English
· periodicals (China in Italy, Confucius Institute)
· DVDs (movies, TV series, documentaries, in English and Chinese)
· CDs of Chinese folk music
Library sections: specified in the PDF document Segnature Biblioteca Confucio.
In the same building as the library there is the "Fondo Corradini", a bibliographical collection consisting of 1566 single-subject volumes and 272 periodicals, collected by Prof. Piero Corradini during his 30 years of academic life (Professor of History and Institutions of Afro-Asian countries at the University of Macerata from 1975 to 1985).
The collection consists of volumes about Chinese and Japanese history, literature, culture and civilization. The collection of 562 volumes of the Chinese work is truly remarkable 四部备要(Sì bù bèi yào) [Essential elements of the four parts of knowledge].
Catalogues
The volumes and the periodicals bought or received as gifts are classified and the bibliographical news merges into the OPAC delle Biblioteche del polo SBN maceratese.
Near the library, users can avail of a reading room (10 seats) provided with PCs with internet connection.
---
LIBRARY STAFF
· representative: Beatrice VISSANI · tel.: 0733-258.5802 / 4360 · email: beatrice.vissani@unimc.it
---
ADDITIONAL REFERENCES
website: Istituto Confucio
interlibrary loan: interbib.uman@unimc.it
---
SERVICES

: interlibrary or external loan


: pc with internet connection

: wi-fi

: library reference
---