The Economics Library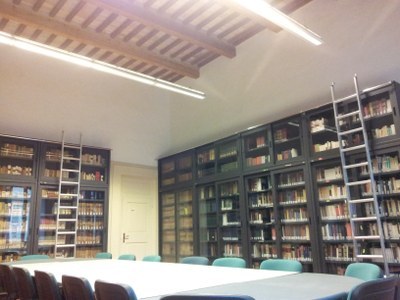 MAIN REFERENCES
Palazzo Chiappini - Via Crescimbeni, 14 - 62100 Macerata
See map
tel.: 0733 258.3208
fax: 0733 258.3205
email: biblio.ec@unimc.it
---
OPENING TIMES AND ACCESS DETAILS *
Opening days: from Monday to Friday
Opening hours: mornings, from Monday to Friday 9:00-13:00 / afternoons, Wednesday 14:30-17:30
Open shelves: no | security tagging: no
*We recommend that you always consult the News section to check for any temporary variations to the times indicated above.
PRESENTATION
Founded in 1965 as the library of the Institute of Economics and Finance of the Faculty of Law, in 1993 it became the library of the Department of Economic and Financial Institutes, at the same time as the set-up of the Department itself. In January 2005 it was established as the inter-departmental library of Economics and now, further to Rectoral Decree no. 445 dated 2 August 2012, it is part of the Department of Economics and Law to which it provides the necessary didactic and research support. The library has approximately 23,000 monographs, 160 periodicals (64 current ones) and the patrimony is articulated according to thematic sections: economic-historical, corporate and banking, statistical-mathematics, special collections, periodicals.
The collection is added to on the basis of the scientific and didactic requirements of the Department and the purchases policy is orientated towards economic-historical, corporate, statistical-mathematical themes.
In September 2014 the library was transferred to Palazzo Chiappini and extends over three floors: the basement contains Italian and foreign periodicals, the ground floor houses the corporate, bank-credit, micro and macro-economic, econometric-statistical-mathematical sectors and new accesses, and the first floor houses rarer and more precious materials.
Two consultation rooms, with a total of approximately 20 work stations, are available to users who can use the staff consultation service to access the collections, as well as availing of in-house consultation and external loans.
---
LIBRARY STAFF
· reference person: Ilaria RINALDELLI · tel.: 0733-258.3208 · email: ilaria.rinaldelli@unimc.it
---
ADDITIONAL REFERENCES
website: http://economiaediritto.unimc.it/en/research/library
interlibrary loan: interbib.giur@unimc.it
---
SERVICES

: interlibrary or external loan


: pc with internet connection

: wi-fi

: library reference
---