The University Didactics Library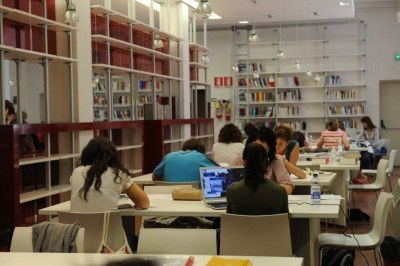 MAIN REFERENCES
library code: BD
Palazzo del Mutilato
Piazza Oberdan, 4 - 62100 Macerata
See the map
tel.: 0733-258.3985
fax: 0733-258.3951
email: biblio.didattica@unimc.it
---
OPENING TIMES AND ACCESS DETAILS *
Opening days: from Monday to Saturday
Opening hours: from Monday to Thursday: 8:30-24:00 / Friday: 8:30-20:00 / Saturday: 9:00-18:30
The librarian services (references, loans...) finish at 19:30, from Monday to Friday, and at 13:30 on Saturdays (outside of these times, the library is opened only as reading room).
Open shelves: yes | security tagging : yes
*We recommend that you always consult the News section to check for any temporary variations to the times indicated above.
---
PRESENTATION
The university didactics library, which was established with decree no. 1647 dated 27-11-2004, dedicated to Prof. Mario Sbriccoli, develops over two floors of Palazzo Mutilato, in Piazza Oberdan, 4. It consists of two spacious and comfortable reading rooms characterized by open shelves with over 250 seats.
The room on the ground floor provides all the handbooks used (and of reference) in the various fields of teaching on which the teaching programme of the University is based. The didactics vocation of the library focuses on being helpful and efficient in providing all sorts of teaching materials and in guaranteeing the support necessary for the consultation of the same. All of these sorts of possibilities help to form the essential didactics support for the subjects associated with the required courses held at our University.
The room situated on the first floor contains a vast collection of general reference materials: alphabetical, systematic and themed encyclopaedias, dictionaries and vocabularies, glossaries, lexicons, general and specialist bibliographies, biographical repertories, indexes, catalogues, collections of sources, etc.
Both rooms remain open all day and have security tagging with an, RFId system, this technology uses radio-frequency for the identification and the inspection of the library's property.
---
LIBRARY STAFF
· representative: Cettina LOVASCIO · tel.: 0733-258.3991 · email: concetta.lovascio@unimc.it
· librarian: Marina BONI · tel.: 0733-258.3916 · email: marina.boni@unimc.it
· librarian: Patrizia SABBATINI · tel.: 0733-258.3987 · email: patrizia.sabbatini@unimc.it
---
ADDITIONAL REFERENCES
website: -
interlibrary loan: interbib.uman@unimc.it
---
SERVICES

: interlibrary or external loan
: self-service photocopier with prepaid card


: pc with internet connection

: wi-fi

: library reference
---