University Language Centre Library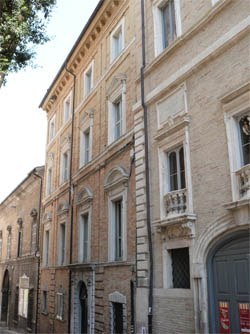 MAIN REFERENCES
library code: CL
Palazzo Compagnoni delle Lune
Via Don Minzoni, 17 - 62100 Macerata
Visualizza mappa
tel.: 0733-258.6066 / 6065
fax: 0733-258.6057
email: segreteria.cla@unimc.it
---
OPENING TIMES AND ACCESS DETAILS *
Opening days: from Monday to Friday
Opening hours: 10:00-13:00
Open shelves: no | security tagging : no
*We recommend that you always consult the News section to check for any temporary variations to the times indicated above.
---
PRESENTATION
Established in September 2004, the University Language Centre (CLA) aims to bring a contribution to multilingualism, to Lifelong Learning Language, to the improvement of linguistic competence through internal and/or universally approved assessment, to the development of cutting-edge technologies and multimedia devices for languages, within the framework of consolidation of the European identity, favouring international exchange in the major languages of communication and culture, with respect for linguistic differences and through the promotion of the "little languages". Therefore, the University Language centre is characterized by an affirmation of endurance and tolerance in the struggle against racism, xenophobia and discrimination. Beyond being mainly intended for students as well as teaching and administrative staff of the university, the language centre also aims to be an open structure within the territory, from schools to the world of production and it offers its services to the Italian and foreign population.
---
LIBRARY STAFF
· representative: Cinzia DE SANTIS · tel.: 0733-258.6066 · email: cinzia.desantis@unimc.it
· representative: Patrizia SGALLA · tel.: 0733-258.6065 · email: patrizia.sgalla@unimc.it
---
ADDITIONAL REFERENCES
website: Centro linguistico d'Ateneo
interlibrary loan: -
---
SERVICES
General consultation and limited loans reserved only for certain titles.
---